TGIF! Right! Well, in lue of our March Madness I have brought another basketball inspired post. I loved Shelly's idea of incorporating upper body strength into her basketball workout so I've followed her lead. The Ball Bench Press uses a ball in place of a weight bench, no ball, just bench!
I'm sorry that my head is cut off in these pictures. PicMonkey wouldn't let me enlarge the width anymore but you get the jest of the exercise. The ball is providing added resistance for you to work against therefore you are having to work harder and engaging your abs.

The step ups are shown in the bigger photos below. You can either just keep your legs straight or pull out the Bosu and increase the difficulty by just barely hovering over the floor. I tried doing the presses on the Bosu with just one foot at a time and was not able to do even one good press so I didn't include pictures but if you are wanting to try it, DO IT!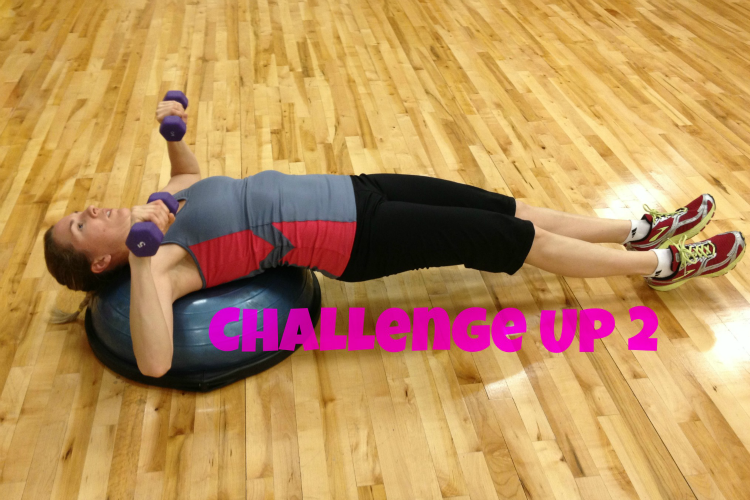 Be sure to check out my workout ladies Sarah from
How My World Runs
and Shelly from
RunningPfuhl
for other great workout ideas. Be sure to include us on your tweet about you workouts this week via #nosuchluck
Empower Ball Giveaway
Empower Fitness
Sarah mentioned them earlier this week and we are pumped they are providing a medicine just for you! We have an exciting giveaway and it will be a great tool to add to the exercises we've been introducing.
"Designed exclusively for women by women, Empower offers fitness products; world-renowned trainers; nutritional expertise; and online communities to help you reach your goals.
Empower is here to inspire and motivate you to be active, healthy, and strong. It's your moment of truth, now MAKE YOUR MOVE to Empower."
I love that my goals are in line with theirs. The goal of my blog is to not only share my journey but hopefully encourage someone along the way. They have generously supported our goals by offering one of our readers a Medicine Ball in the weight of their choice! They offer 4, 6, 8, and 10 pound medicine balls.
Our giveway is for US residents only.