Just signed up for a 5k race with one of my fav running partners... my dog Lola. As you can see in my profile picture she's all smiles after a run. She doesn't complain about the weather or if she's tired. I LOVE running with her and am so excited to do this race with her on October 6th.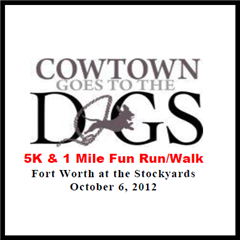 I'm some what new to the DFW area and have only been the the famous stockyards once. I'm super pumped to get a tour it in one of the best ways to tour...a run.
It's $20 for the 5k now since it's so late in the game but that's about normal for a 5k. The 5k starts at 8:30am and packet pick up is at the Fort Worth Running Company off 7th Street. Of course its best to only bring your pup if they've been spayed/neutered for obvious reasons and they want to make sure all dogs have their shots up to date(no crazy rabies bites!).